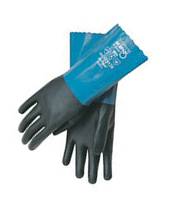 Pesticides can pose hazards to humans. The severity of a harmful effect or poisoning depends on the pesticide's chemical makeup and formulation, its path into the body, the amount that enters the body, and the length of exposure. Wearing Personal Protective Equipment, or "PPE", can greatly reduce the potential for dermal, inhalation, eye, and oral exposure, and thereby significantly reduce the chances of pesticide poisoning.
"PPE" refers to clothing and devices worn to protect the human body from contact with pesticides or pesticide residues. PPE includes such items as protective suits, footwear, gloves, aprons, respirators, eyewear, and headgear. When purchasing and prior to using a pesticide product, it is essential that you read and understand all portions of the pesticide product label.  You are legally obligated to follow the instructions and requirements on the label.  The label is the law, AND it contains vital information about the use, safety, and handling of the product.  Carefully review the signal word, precautionary statements, personal protective equipment requirements, entry restriction statements, emergency first-aid measures, and directions for use – they are included to protect you, others, and the environment.
Different pesticide products require different personal protective equipment. Remember that any product that contains a pesticide – including baits, aerosols, fertilizers, seed, "natural" products, etc. – must be handled using the required PPE, in the correct way. In addition, there are basic PPE principles and practices that must be understood to protect the health and safety of everyone involved in handling a pesticide.
These pages focus on many of the basics of personal protective equipment (PPE), but do NOT substitute for following the pesticide product label, the PPE user instructions, and all applicable government regulations.  To reduce exposure, the required PPE must be handled properly from purchase through disposal, whether you apply a pesticide at home, or work in an agricultural or non-agricultural occupation.
Topics Included in this Module
Compiled by Wayne Buhler, PhD and David Jefferson