Important Notice: Please see EPA Releases Temporary Guidance on Respiratory Protection for Agricultural Pesticide Handlers During COVID-19
When working with any pesticide, you must follow all personal protective equipment (PPE) requirements listed on the label. This is for your safety, and also is a legal requirement for using a pesticide. Respirators, a type of PPE, are safety devices that protect the wearer from breathing in air that is contaminated with hazardous substances. Be sure that any respirator you choose for protection against pesticides is certified by NIOSH, the National Institute for Occupational Safety and Health. There are other respirators on the market that are not NIOSH-approved, such as nuisance dust masks or some surgical masks. Nuisance dust masks can be used to keep you from breathing in non-toxic particulates, such as pollen or dust. However, they are not NIOSH-approved—the filter, box, or packaging cannot be marked with a filter rating.


"NIOSH" is printed in the center of this N95 particulate filter respirator. All respirators used when handling pesticides require this designation.
This module describes types of respirators; their limitations, use, care, maintenance, and storage; as well as requirements for the medical evaluation, fit testing, and training of respirator users.  Text and images used in this site have been extracted with permission from the publication: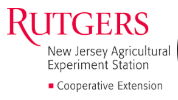 Respirator Protection For Occupational Users of Pesticides, by Patricia D. Hastings, Coordinator, Rutgers Pesticide Safety Education Program. Additional content was provided by Jan R. Hygnstrom, Clyde L. Ogg and Cheryl A. Alberts, University of Nebraska.