FlowChart 08-05-21-NO LinksFederal, state, and local laws and regulations must be obeyed in managing, controlling, and capturing wildlife. Protected status, open seasons, legal capture methods, and disposition are all influenced by federal laws, state hunting and trapping regulations, and the conservation guidelines of wildlife biologists. Migratory birds are protected by federal law and cannot be taken without species-specific permits. Management of marine mammals or other marine organisms may also require special permits or licensing through the state wildlife agency or federal marine fisheries agency.  Animal removal, transport, and disposition may also require professional certification. The use of regulated toxicants almost always requires a separate pesticide applicator license. Wildlife causing damage may be controlled outside of typical hunting and trapping seasons. Depending on the species, the WCO may need special permits, usually issued to the landowner. Use the flowchart below for guidance in determining the need for permits, licenses, or other authorizations for wildlife management.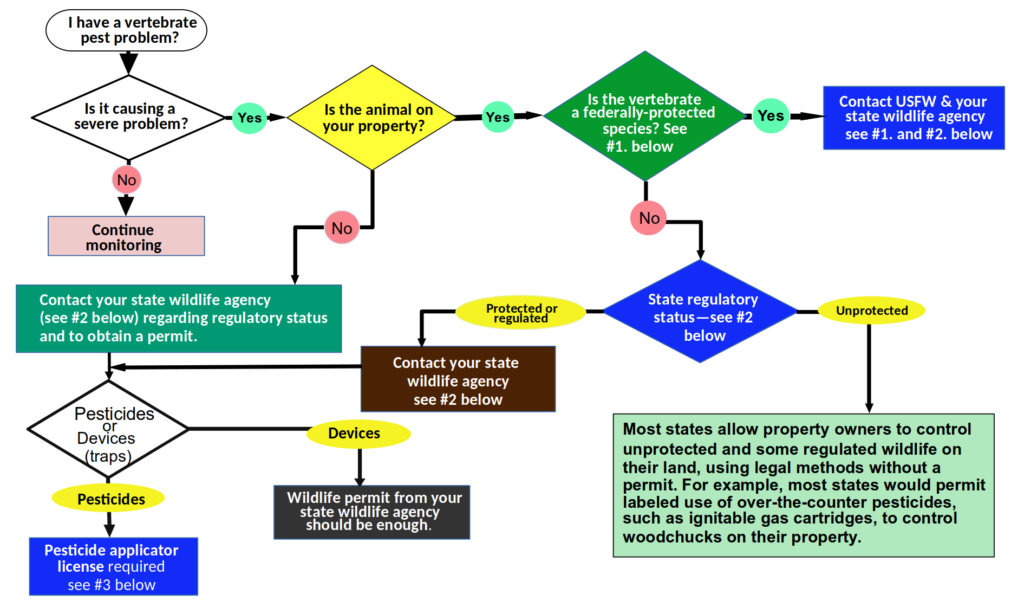 Flowchart links:
#1.  U.S. Fish and Wildlife Services ePermits   Do I Need a Permit?
#2.  State and Territorial Fish and Wildlife Officers
#3.  Pesticide Applicator License Control Officials 
The information on this webpage is based on the contents of the Wildlife Control Operator Core Training Manual published by the National Wildlife Control Training Program.